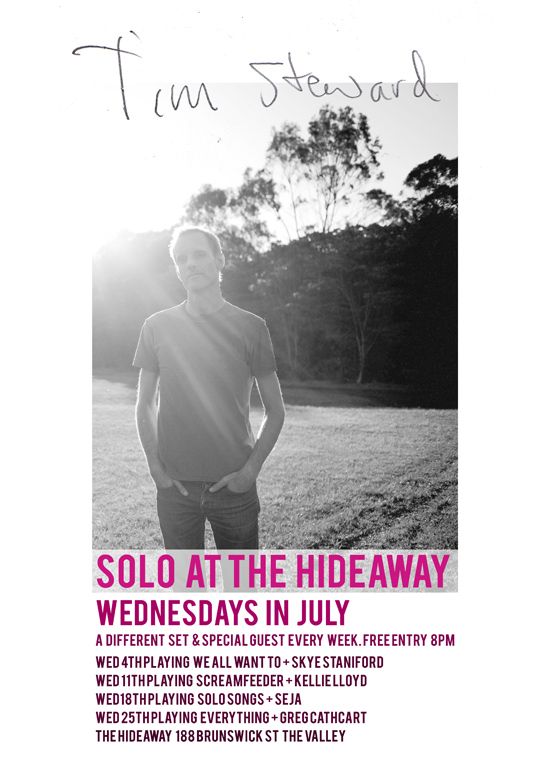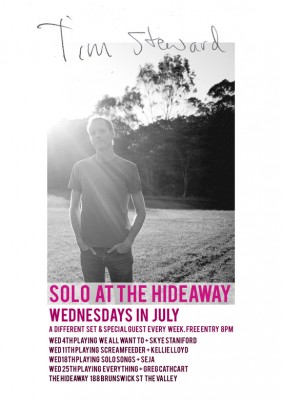 It's been a while between solo gigs. I always get nervous and punish myself with grueling practice regimens. But ever since I saw Phil Usher solo, I've been thinking "that doesn't look so hard".. so I'm doing it.
The Hideaway's the best bar, it's totally great. The beer's incredible too. I've got a million songs up my sleeve (some of them I even remember) and some excellent guest players lined up. You should come.
Wed 4th July playing WE ALL WANT TO songs + Skye Staniford
Wed 11th July playing Screamfeeder songs + Kellie Lloyd
Wed18th July playing solo songs + Seja (Sekiden, Regurgitator)
Wed 25th July  playing everything + Greg Cathcart (Silent Feature Era)
Facebook event here
From about 8.00pm.
188 Brunswick street, Fortitude Valley, Brisbane, Queensland, Australia 4006
The Hideaway is a small but perfectly formed Bar in Fortitude Valley, Brisbane, with a sophisticated vintage vibe, celebrating all that's great in life – Good Coffee, Fine Wine, Craft Beer and underground and alternative sounds from the last 50 years. With live music or old school vinyl DJ's on the weekend playing Soul, Blues, Garage, Jazz, Funk, Ska and Rockabilly, you're always sure of a good night at The Hideaway.